Acadia
Alba

DK weight 50% Merino Wool, 25% Alpaca, 25% Viscose


Brushed Suri

The airy halo of this yarn creates a soft and irresistible look in sweaters, scarves and wraps. Knits up beautifully on a wide range of needle sizes from simple garters to open work lace.



Out of Stock
Cardiff Cashmere

Classic 100% Cashmere in a DK weight


Chickadee
Cozy Soft Solids

Cozy Soft 75% Acrylic, 25% SuperWash Wool


Deluxe DK
Deluxe DK Tweed
Echo
Out of Stock
Entropy
Haven

Plush cashmere and extra-fine merino intertwine in a unique, seven-ply structure that gives Haven superb stitch definition and a sumptuous fabric with unparalleled depth and bounce.



Out of Stock
Hazel Knits-DK
Knerd DK
Out of Stock
Luma

Plant-based fibres mixed with silk and wool provide a built-in layer of warmth in winter yet lightness when required in warmer temperatures.



Out of Stock
Merinoull

MERINOULL (merino wool) contains 100% merino wool. Delicious and soft, it superwashed so that it is particularly suitable for baby and children's wear. It is also great for adults.


Monokrom DK

Monokrom is the perfect option if you want your single color projects to have a visual texture and depth.



Out of Stock
Rainbow Peaks DK

Perfect DK - superwash merino nylon 85/15



Out of Stock
Rainbow Road Perfect DK kit

Crochet oversized, squishy rainbow goodness! Want to make your own? This is the Rainbow Road kit!



Out of Stock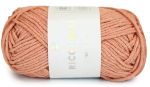 Ricorumi

Fun-sized bundles of 100% DK-weight cotton. Perfect for colorwork and the cutest amigurumi friends you ever seen!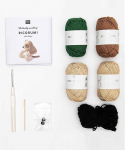 Ricorumi Kits
Out of Stock
Scout

Scout from Kelbourne Woolens, is a lovely DK wool for people who love yarn. It has a lovely hand and fabulous sitch definitions.


Soybean DK

Local indie dyed yarn



Out of Stock
Tresko

Tresko is a durable marled utility yarn that is reinforced with nylon.


Ultra Alpaca Light

Ultra Alpaca is the ideal balance of luxurious super fine alpaca and Peruvian Highland wool blended together and spun up perfectly round and light.



Out of Stock
Uneek Cotton
Out of Stock
Willet
Wren

60% American wool, 40% Texas organic cotton / Grown, spun and dyed in the USA



Out of Stock