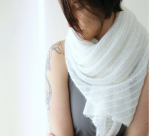 Lunar

A lace yarn in luminous silk that glows with an inner light. Yielding a weightless fabric, it shines in combination with other yarns.


Malabrigo Mohair

Malabrigo Mohair is a Lace weight base that boasts 229 yards (210 m), it comes in 25 g skeins and is made up of 72% Mohair and 28% Silk.


Silk Cloud
Out of Stock
Silkhair

Silkhair adds a lovely halo to your project.



Out of Stock
SilkPaca
Super Kid Mohair Loves Silk

This dreamy, lightweight blend of mohair and silk has a soft drape and a cloudlike halo. Treat yourself to something luxurious! This yarn originates in Italy.


Yoshi & Lucy Rosa

A fluffy blend of mohair and silk. Hand-dyed by Yoshi & Lucy



Out of Stock